We are delighted to provide production and post-production services including:
BSL to English translation with spoken (voice-over) recording and syncing to your video
BSL to English translation written transcripts (with the option to have the transcript time stamped by paragraph)
Open Captions (also known as open subtitles, or burnt in/on captions/subtitles). The captions are added on to your video and are always on-screen: great for in-person events, webinars, downloadable videos, etc.
Closed Captions (also known as closed subtitles). The viewer can switch the captions on and off themselves. Great for some online content and DVDs/Blu-ray productions. The captions are supplied as a separate file and you upload them together to your video platform or social media site of choice (eg YouTube, Vimeo, Facebook)
Chromakeying (also known as greenscreen removal/bluescreen removal). If you are an interpreter or translator and have filmed footage of yourself in front of a greenscreen or bluescreen and wish to add you're into a video we can remove the background screen, place you into the in-vision interpreter/translator position, and sync your BSL video footage with the spoken English audio.
We also have production facilities available for on-site work at at venue or location of your choice to film BSL and record audio in-person.
Assignments have included social media content, survey instructions and questions, a children's book, and church services for national and regional organisations and businesses.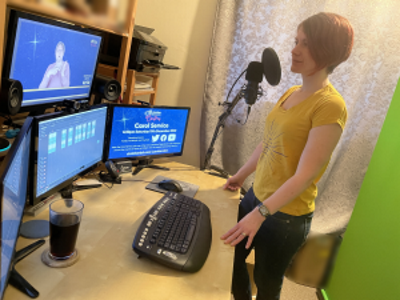 Contact Tom and Kat to discuss voice-over and BSL to English services, video captioning services, and other production and post-production work.